PDF/A in the Legal System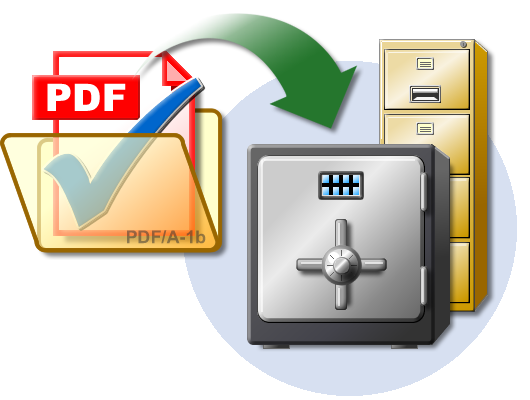 We recently wrote about the use of mobile devices by legal professionals to access Document Management systems.  As the selected vendor of the Maryland State Bar Association, we enjoy educating the legal community about our available technology, designed to help make them more productive and efficient.
As I read her blog, I was reminded of another topic that seems to be on the minds of attorneys these days.  It is the upcoming requirement of the use of the PDF/A standard for filing submissions to the Case Management and Electronic Case Filing (CM/ECF) system.  CM/ECF is a comprehensive case management system that allows Courts to maintain electronic case files and offer electronic filing over the Internet.  Currently, U.S Courts mandate PDF submissions for legal filings such as complaints, bankruptcy petitions, briefs and depositions through CM/ECF.  However, the Federal Judiciary is planning to change the technical standard for filing documents from PDF to PDF/A. This change is intended to improve the archiving and preservation of case-related documents for many, many years to come.
So, what is PDF/A?  Simply put, it is a file type derived from the universally used PDF format, which was designed specifically for archival.  It is based on a set of standards that provide specifications for the creation, viewing, and printing of digital documents used for long-term archival.  PDF/A preserves and protects final documents of record as self-contained files, as they do not allow references to any external content.  (Detailed characteristics of the PDF/A file standard can be viewed here.)
The PDF/A file format allows for different levels of compliance. The lowest level, PDF/A-1b, meets all the core requirements, helping to ensure reliable reproduction of the visual appearance of a document. This specification is often applied to scanned images and preexisting PDF files that are converted to PDF/A. The higher level, PDF/A-1a, requires a document structure called "tags" that provide an underlying structure for the content within the document and facilitates searching, repurposing of content, and accessibility for people with disabilities such as blindness, through screen reading functionality. This higher level specification is typically applied to "digitally born" documents captured directly from applications like Microsoft Word, which create document structure during the authoring process.  Earlier this year, the PDF/A-2 standard was released.  It will exist along with both of the PDF/A-1 standards and takes advantage of features that have become available in newer versions of PDF, such as JPEG2000 Compression, Collections, Transparency, Layers, Unicode, and Comments.
The creation of PDF/A files can be accomplished through a combination of hardware and software products.  Here at Advance – The Document Specialists, we offer hardware solutions that can be used to scan paper directly to the PDF/A-1b file format, without the need to perform a later software conversion.  Our Canon imageRUNNER ADVANCE multi-functional devices (MFD) and Nuance eCopy ShareScan devices, for both Canon and Ricoh/Savin MFDs, can scan hard copy documents to PDF/A-1b files at the push of a button. For our clients seeking a dedicated, desktop scanning solution, we also offer Panasonic scanners.  These scanners include a software utility that allows scanned images to be saved as PDF/A-1b files.
Creating PDF/A files from native software formats can actually be accomplished fairly easily.  Many law offices already have a method for creating PDF/A-1a documents and they may not be aware of it.  Since the release of Microsoft Office 2007, programs such as Word and Excel offer the ability to save files in the PDF format, without relying on other 3rd party software.  When saving to the PDF format, there is an "Options" button that can be selected, to choose the PDF/A format before selecting "Publish."  For organizations that are still using older versions of Office, Advance offers several Nuance software products, including Personal Paperless Document Manager (PPDM) and PDF Pro Office, which allow for the conversion of native Microsoft files to the PDF/A-1a standard.  However, difficulties may arise when working with second generation documents, such as already existing PDF files.  Because these documents were not created with the PDF/A standards in mind, there may be issues with missing or incompatible fonts, the file may be encrypted or it may contain various other issues that don't comply with the PDF/A standard.